In an interview with the magazine, Vanessa Hudgens appears to be a more mature young woman every day.
Vanessa Hudgens said that she would perform in Sucker Punch, which she said would be an intense experience for her, as this will be a very different role for her from what she has played before.
She also said that her parents never wanted her to be an actress because it is a hard profession, but she was incapable of wanting to do anything else with her life. As far as Zac and her relationship with him, Vanessa said that for the moment they don't want to live together because it is important that each of them have their own space, so for now they are not getting more serious.
Vanessa Hudgens - The Graduate - InStyle Interview - InStyle Magazine - July 2009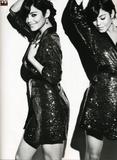 Thank you for read this post Vanessa Hudgens: InStyle and you can find this article Vanessa Hudgens: InStyle with the URL http://princesslotta.blogspot.com/2009/06/vanessa-hudgens-instyle.html. Please read other articles of ©World Celebrity Gallery . If you want to share this article, please post the source