People magazine unveiled Kate Hudson as the cover girl for its list of the world's 100 most beautiful people.
People said Hudson was chosen to showcase the unranked list because the natural beauty she represents is now at the height of fashion.
Hudson "just embodies such an incredible natural beauty that is in vogue right now," People Senior Editor Galina Espinoza said on The Early Show.
"We've gotten so accustomed to celebrities getting breast implants and nose jobs, and she will talk about being flat-chested and having a little bit of an offbeat look."
Hudson, 29, daughter of actress Goldie Hawn, told the magazine that she can't remember the last time she had a manicure or a facial.
"I don't do those kinds of things. And when I do, I always think, 'I should do this more often',"
she said.
Also on the list were teen pop idols Hannah Montana star Miley Cyrus and Vanessa Hudgens of High School Musical, both of whom have been criticised for appearing in racy photos.
Hudgens also promoted the natural look saying
"just recently I've learned to be okay with myself without wearing make up".
Among others on the list were Halle Berry, who makes a record twelfth appearance, Nicole Kidman, Jennifer Lopez, George Clooney, Brad Pitt, Angelina Jolie, Matthew McConaughey, Johnny Depp, Alicia Keys and Beyonce.
Kate Hudson People mag's 100 most beautiful issue 5/12/08 scans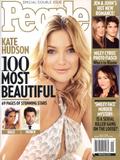 [
Source
]